This Thursday, 9/28, 10a-4pm. Acrylics!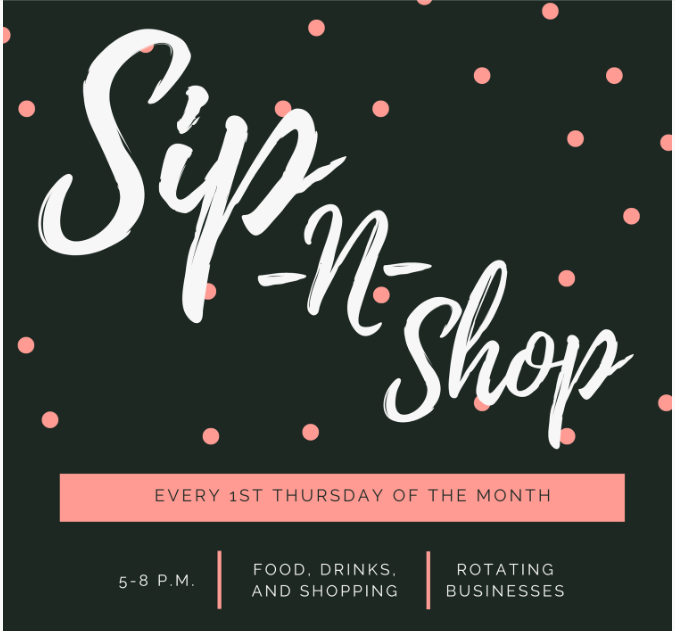 Oct 5th–Muskogee Main Street is promoting Sip-n-Shop on the First Thursday of the month, 5pm-8pm. The MAG's version, Sip-n-Show, Two MAG Artists will be featured each month.
October 28th, Saturday 6pm-8pm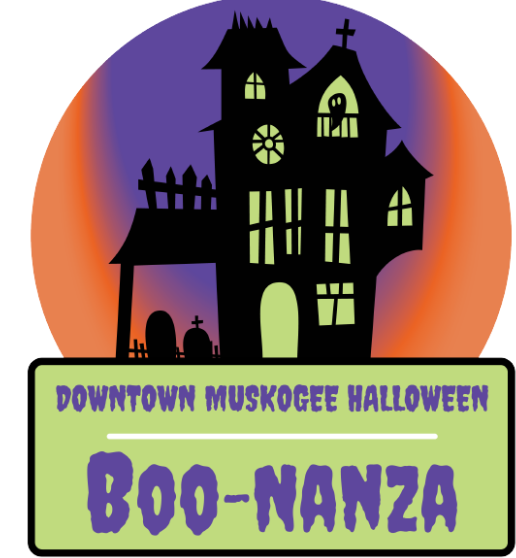 Click here for more details: Boo-Nanza — Main Street Muskogee . Drop off Candy at the MAG before October 28th! I've heard we will hand out candy to MANY MANY Spooky visitors. What Artist or Painting do you plan to dress up as? Need ideas?? Email info@muskogeeartguild.org.
MAG Annual Judged Art Show
SAVE THE DATE: November 2, 2023, Thursday, Reception 5-7pm
Show Judge: Jay Holobach click here to learn about Jay Holobach Fine Art
Prospectus to be available soon. Check back for updates.
New Classes, Workshops and Art&Fun!
---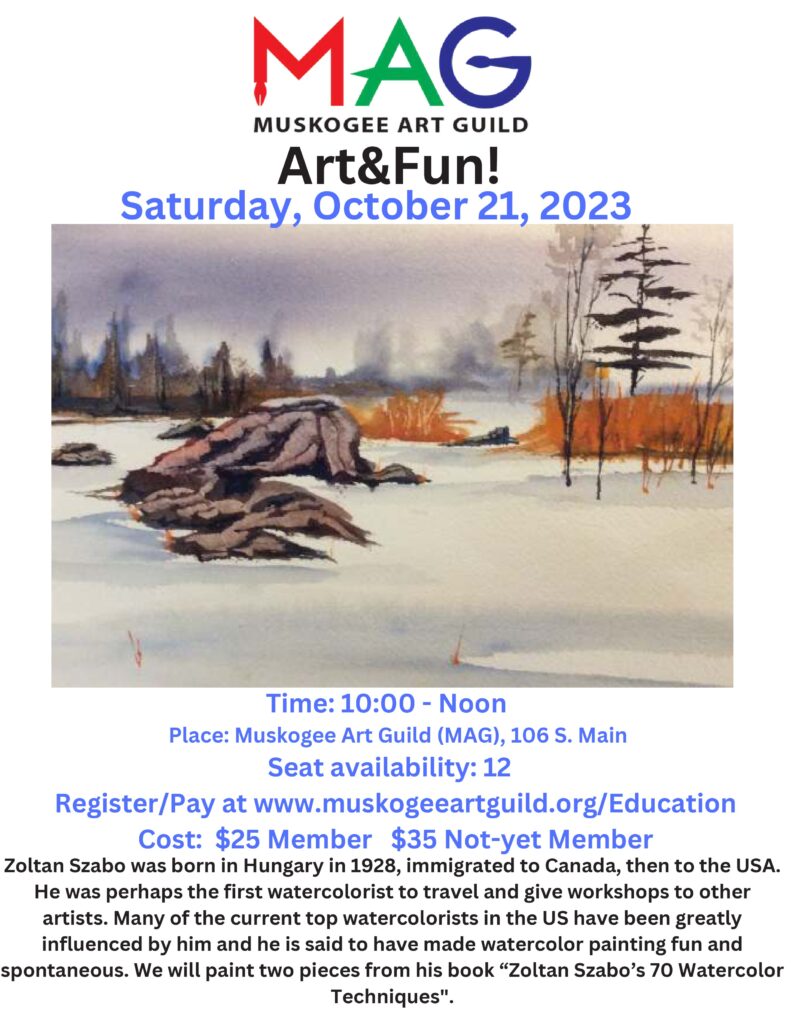 WATERCOLOR TECHNIQUES with George Fulk
Making watercolor painting fun and
spontaneous. We will paint two pieces from the book "Zoltan Szabo's 70 Watercolor Techniques".
Zoltan Szabo was born in Hungary in 1928, immigrated to Canada, then to the USA. He was perhaps the first watercolorist to travel and give workshops to other artists. Many of the current top watercolorists in the US have been greatly influenced by him.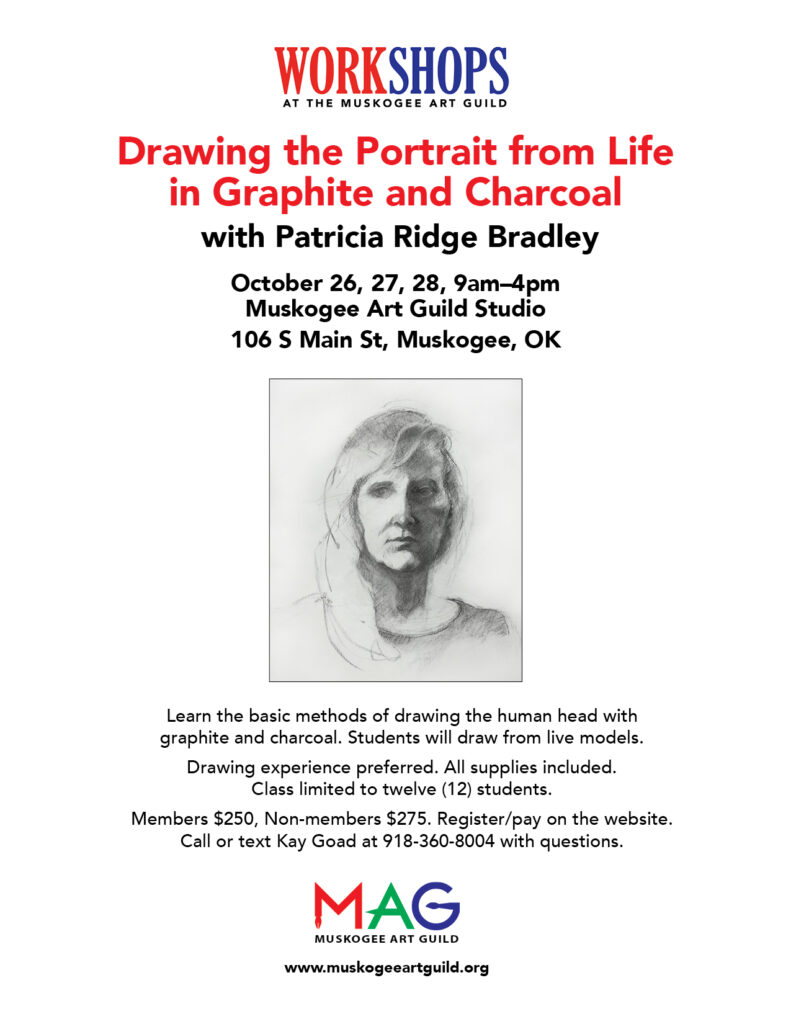 Portrait Drawing with Charcoal & Graphite
Learn the basic methods of drawing the human head with
graphite and charcoal. Students will draw from live models.
Drawing experience preferred. All supplies included.
Class limited to twelve (12) students.
Teacher: Patricia Ridge-Bradley
Members $250, Non-members $275. Register/pay on the website.
Call or text Kay Goad at 918-360-8004 with questions.
Gel Printing Taught by Mary Hoopes Monoprinting with a gel plate lets you enjoy printmaking without a press. We will use Geli plates, acrylic paint, brayers, hot press watercolor paper, and markers. Learn the steps in this process and try it for yourself.
Time: 9:30 am – 12:30 pm Place: Muskogee Art Guild (MAG), 106 S. Main
Max Students : 11
Register/Pay with PayPal or Credit Card at www.muskogeeartguild.org/Education Cost: $25 Member $35 Not-yet Member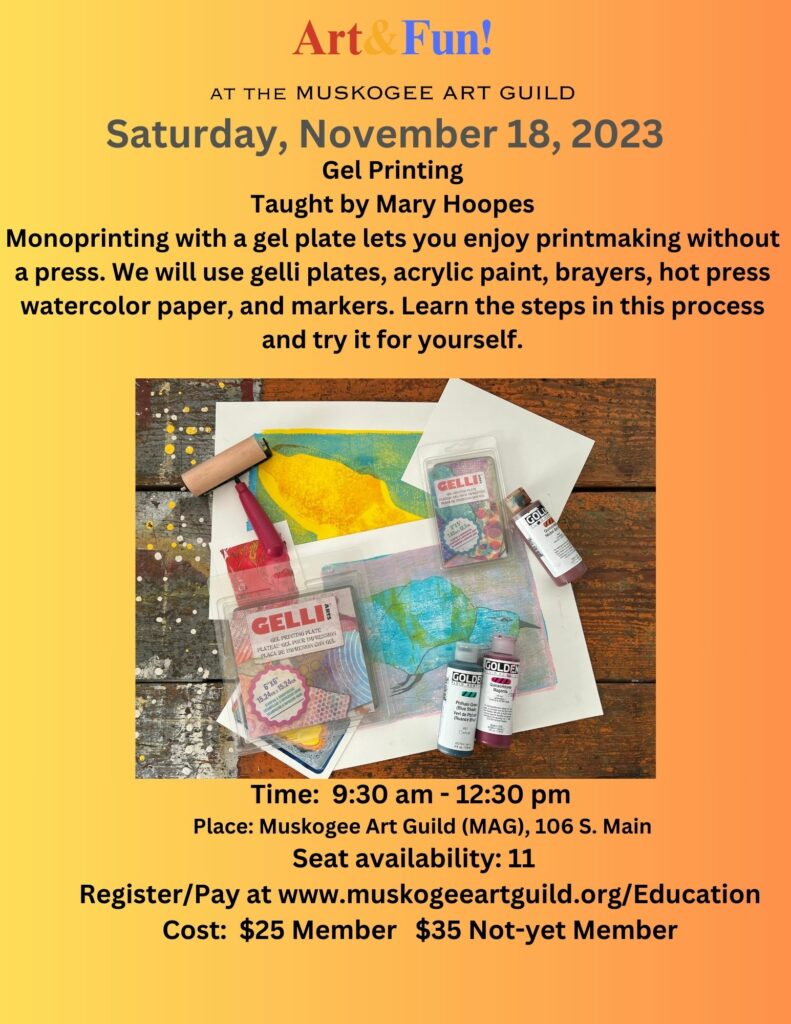 Weekly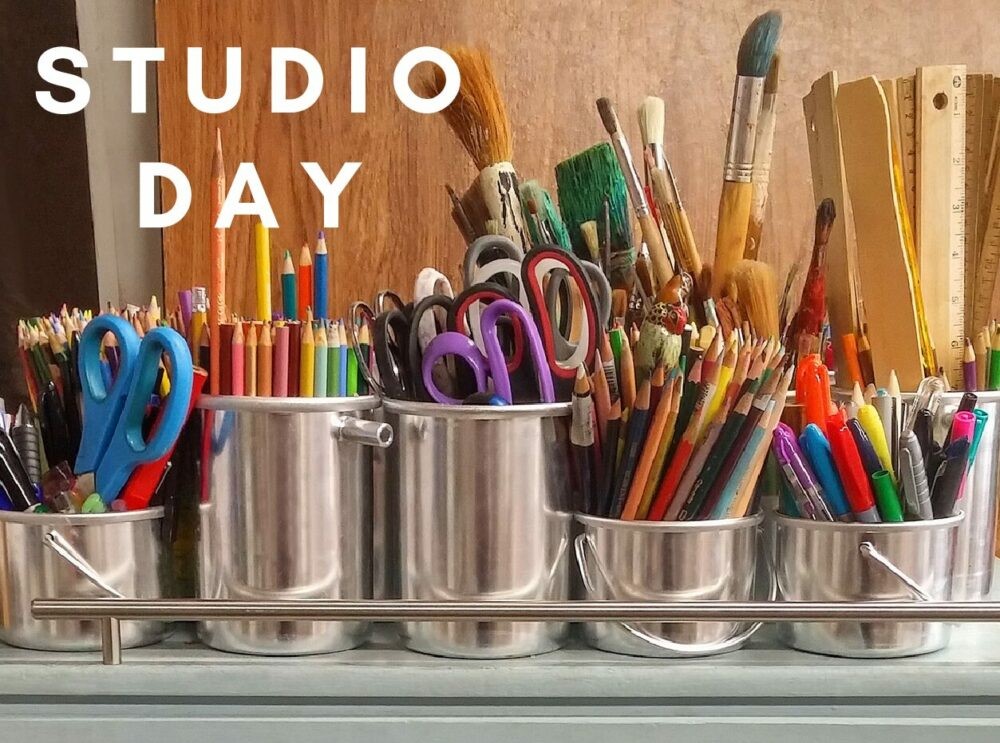 Bring your own project and supplies and enjoy the company of others while making art. We'll look forward to seeing you at the MAG!
Thursdays 10am-4pm.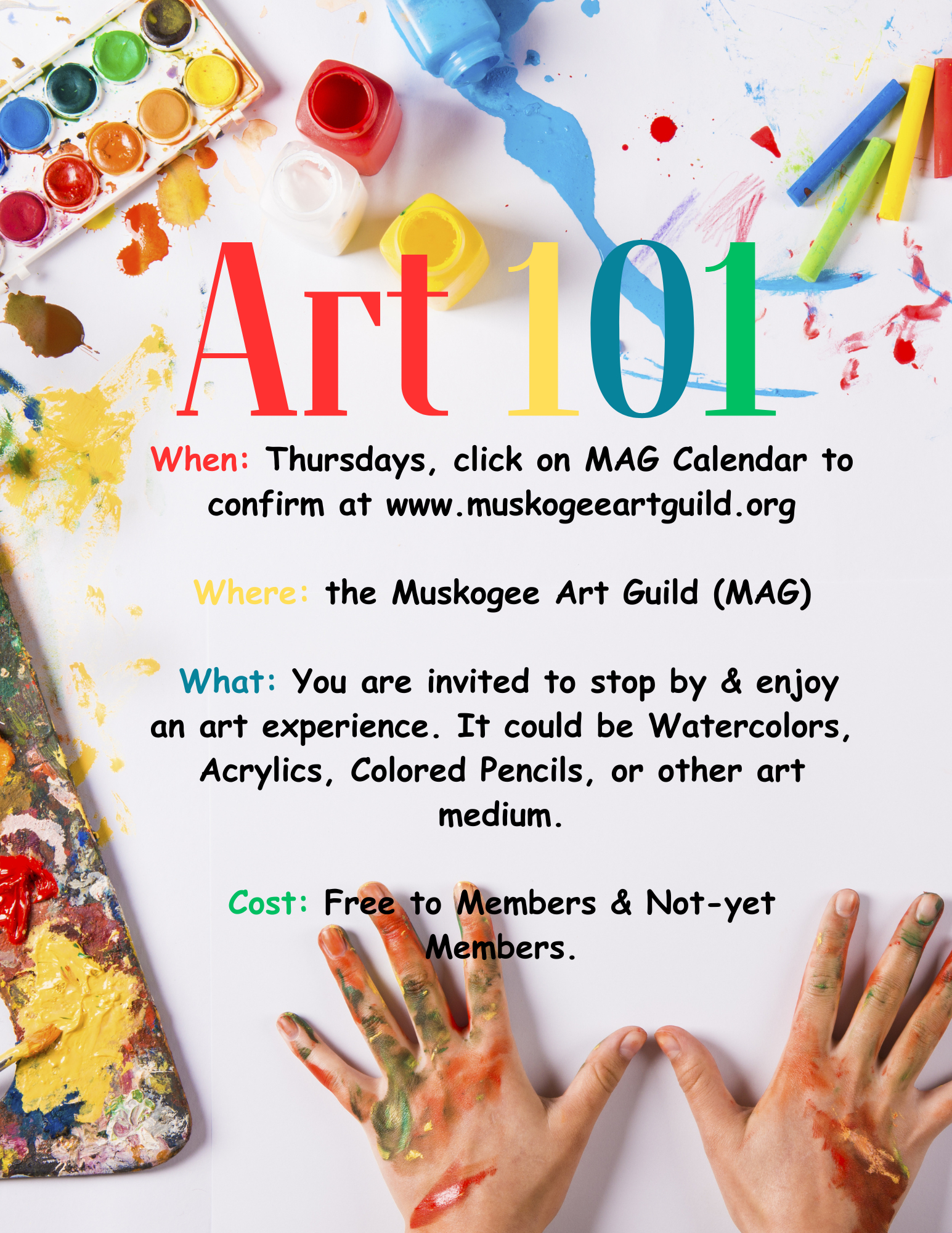 Click here to view the MAG Calendar to see if a topic is available the day you plan to come.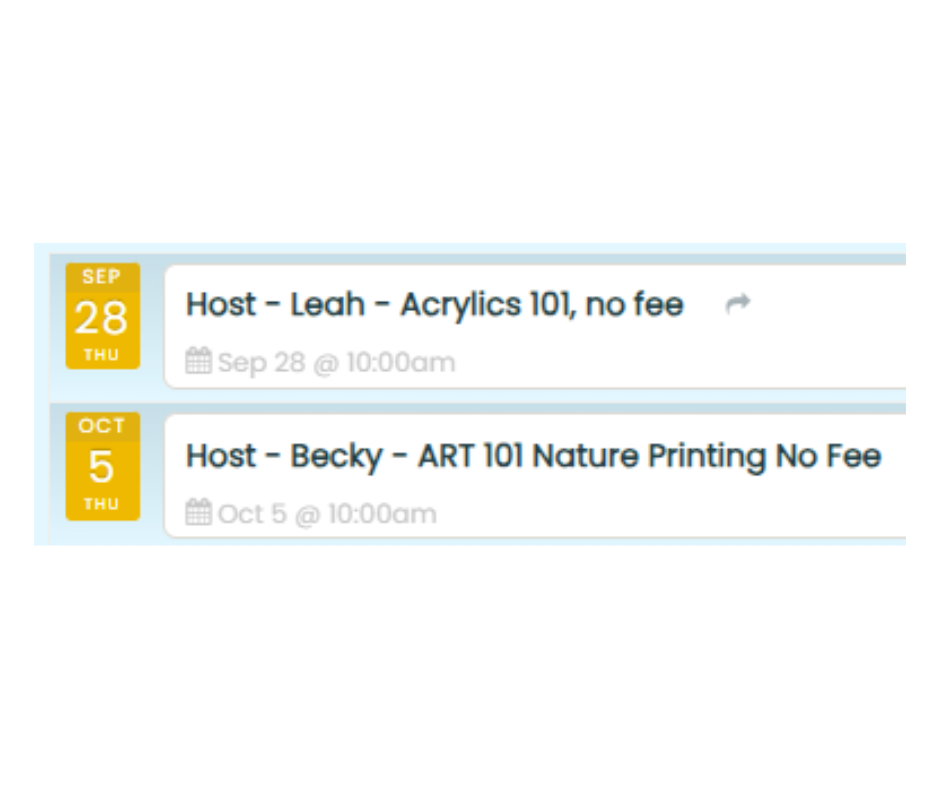 Upcoming Events & News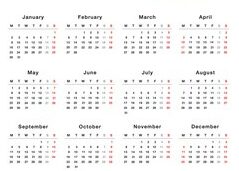 MAG GENERAL MEMBER MEETING – OCTOBER 19, 2023
FROM BRANSON'S ART COMMUNITY- LYNETTE HORN – IS GOING TO SPEAK ON MARKETING THE GUILD AND OUR ART. QUESTIONS ARE WELCOMED! www.lynnettehorn.com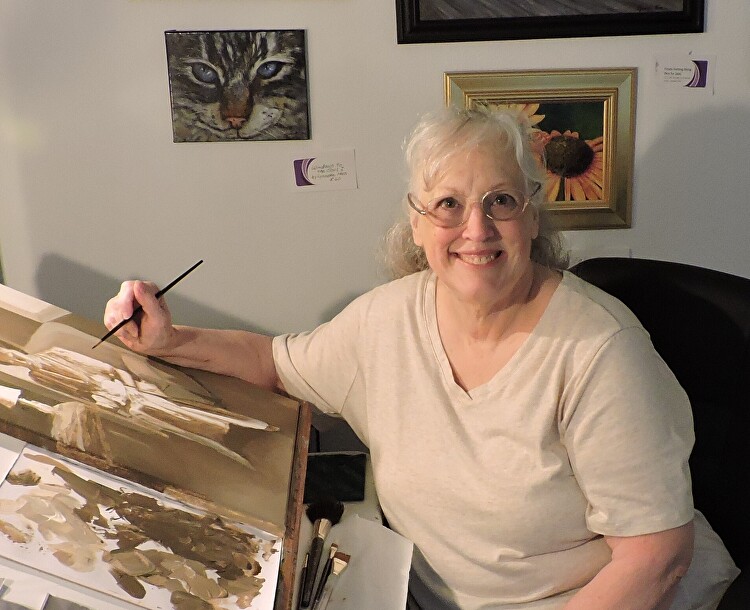 Per Lynette: "I've been creative all my life, mostly as a writer. I have a BS in Communications with a minor in Business from Maryville University in St. Louis. Most of my career I have spent in journalism, freelance writing, and marketing. Twenty years ago, I discovered painting and have used my other skills to create an art business for myself. My art passion is painting representational and hyper-realist art. But what stirs my passion even more is making art accessible to the community. For this reason, I moved to Branson four years ago to help a struggling 501c3 nonprofit arts organization get on its feet. That organization was the Southern Missouri Arts Connection (SMAC), where I am part of our working board, handling communications and marketing. My work has been in many juried shows and gallery exhibits. I have pieces in private collections across the country, as well."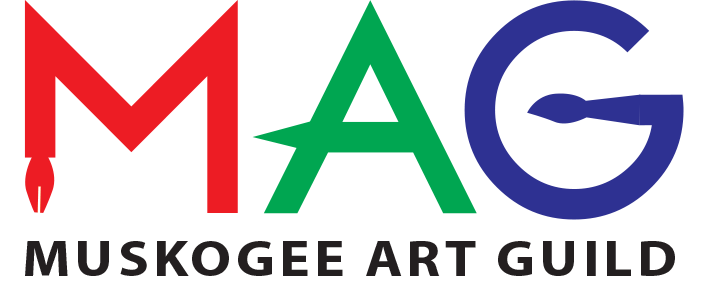 MAG Annual Judged Art Show
SAVE THE DATE: November 2, 2023, Thursday, Reception 5-7pm
Show Judge: Jay Holobach click here to learn about Jay Holobach Fine Art
Check back for updates.
Join Muskogee Art Guild
We welcome new members! There are many benefits of membership in Muskogee Art Guild, including discounts on classes, opportunities to show and sell your art, participate in community art projects, and help create a vibrant arts scene in Muskogee.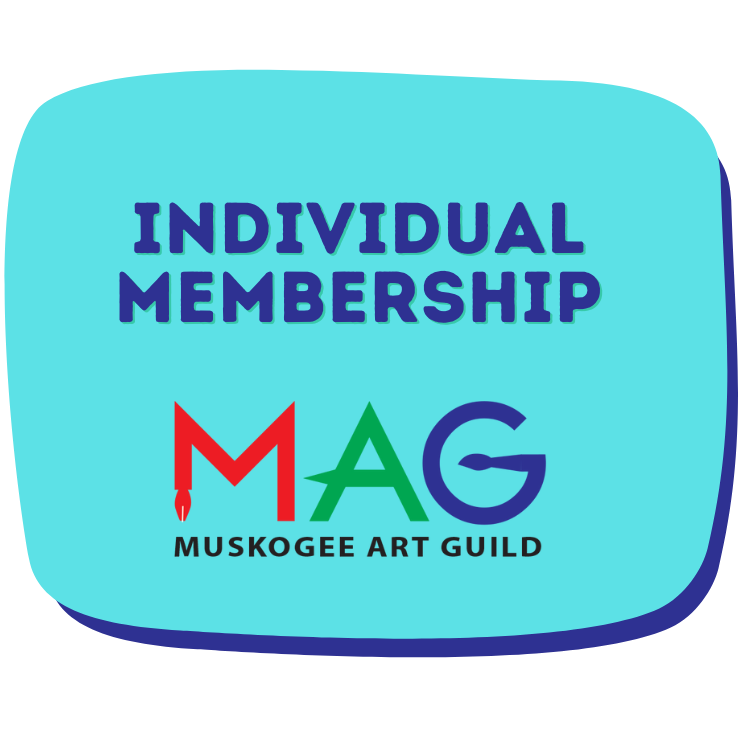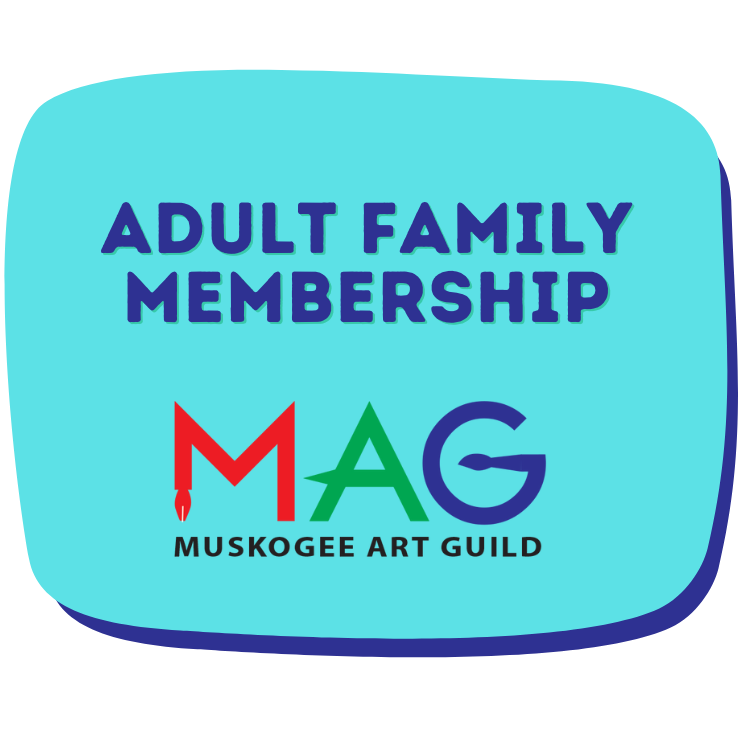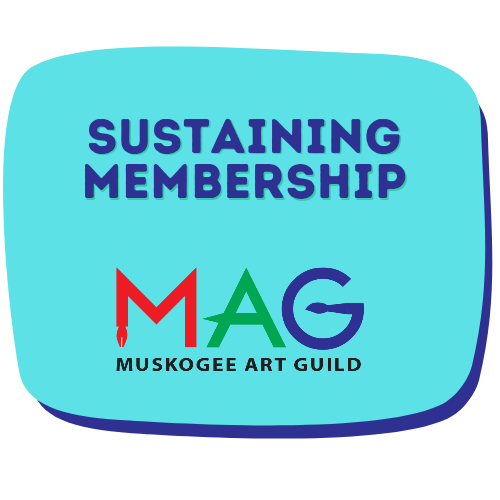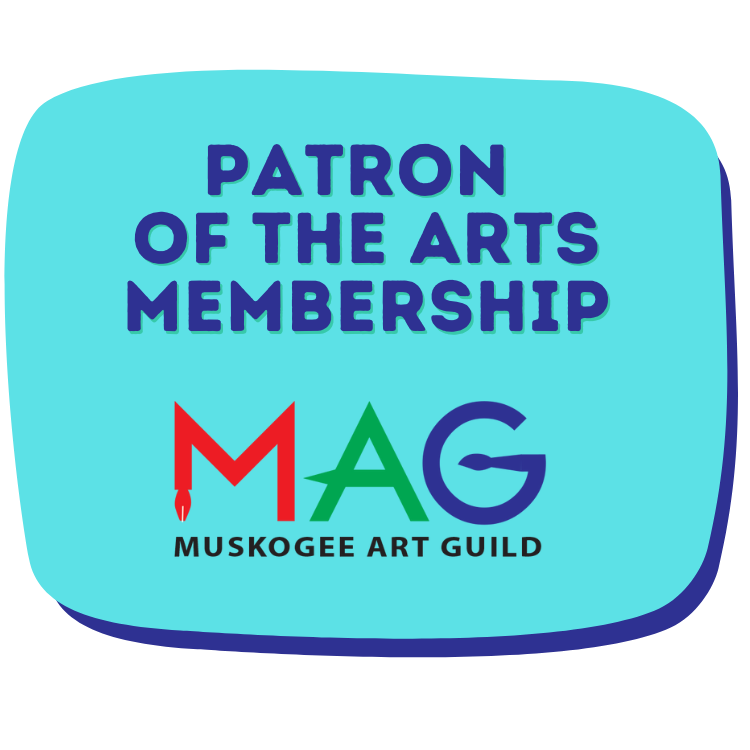 Support the Arts in Muskogee
Email Subscription
Want to get news about classes, workshops, and more from MAG?
Please join our email list. You may unsubscribe at any time.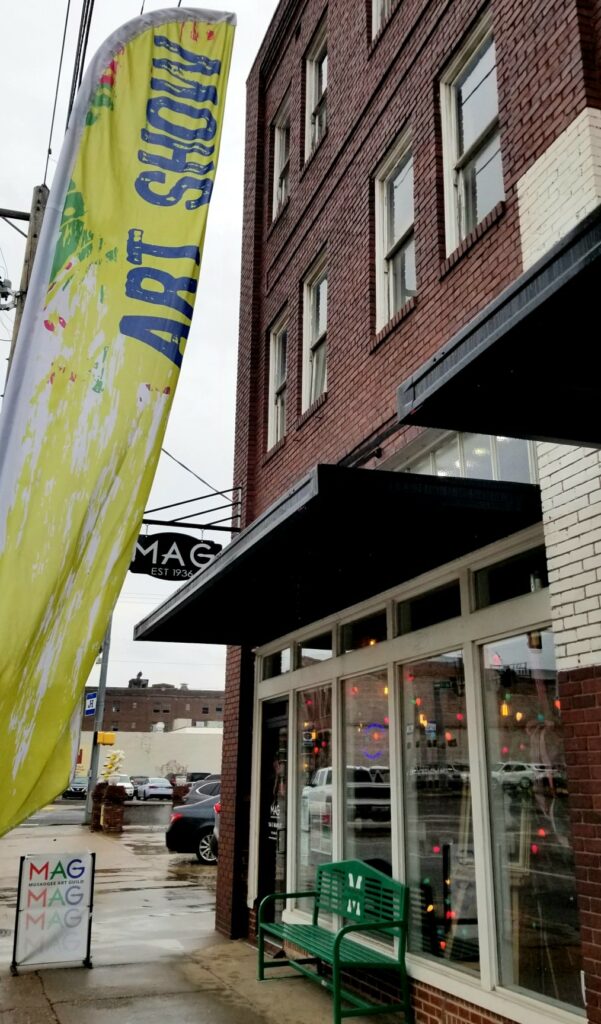 MISSION STATEMENT: The purpose of the Muskogee Art Guild is to help support and promote visual artists in northeast Oklahoma, to encourage and develop fine art awareness and make available educational opportunities for members and the general public.